*Names have been changed (slightly) to protect identity
Feedback accepted graciously (no violence involved, i swear)
Disclaimer: All events and proceedings related to this site are fictitious. Any association to current affairs is ENTIRELY coincidental...Completely coincidental
(Ha, that'll keep those with libel in mind happy.
or dead
)
---
Thursday, May 18, 2006
Our Own Project Mayhem
Oh god, what can I say?
It was
AMAZING
. It was everything I'd hoped for and MORE.
Okay, for those of you who weren't there and had several guesses at our "theme" – you were all wrong.
This year – we had a
Pirates/ Treasure Island
theme with the arrival of a
Pirate Skip/Ship
bringing
bird flu
to the
AHS Island
…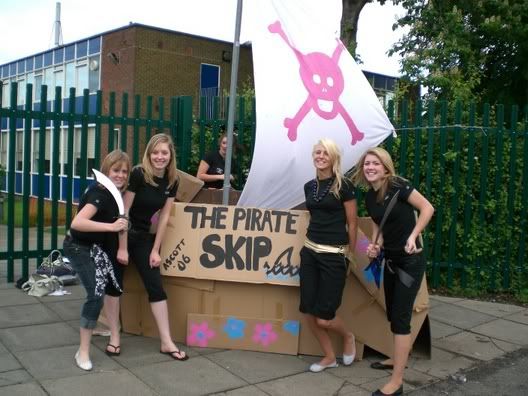 (SPECIAL MENTION: these girls had to get in at 6.30 to meet the skip!!)
We had a huge decorated skip out the front
(free may I add
!) as well as a large banner saying
WARNING, BIRD FLU EPIDEMIC- SCHOOL CLOSED
– and a hella lot of
hazard tape
!!!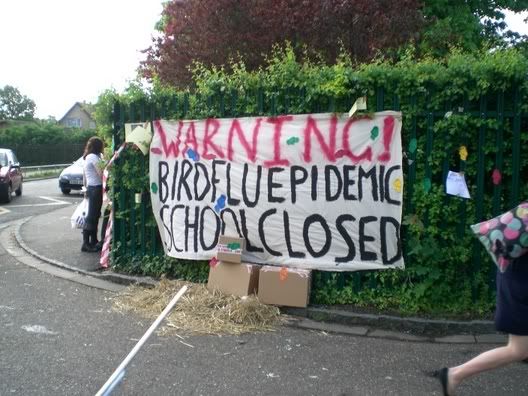 And then, our huge
Jolly Roger flag
out the tower block and our
"We're the TREASURE of AHS"
banner.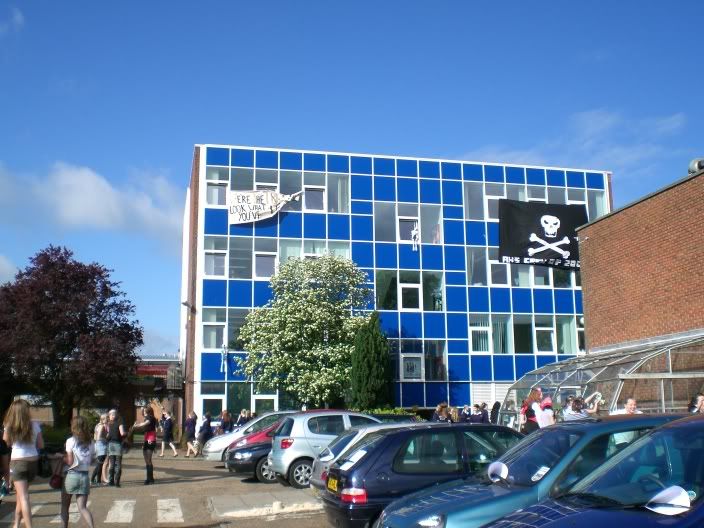 Plus our sandpits, tiki garlands and
50FT ISLAND SCENE
.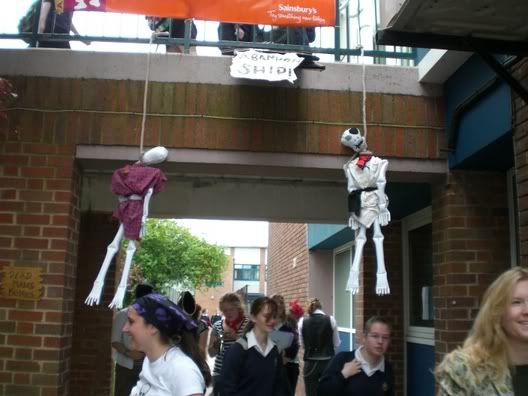 And our hanging pirate remins!
Also - the GSC created a pigs head on a stick last minute to make a wicked LITERARY REFERENCE innit? Hope people understood the bit about the Headgirl of the Choir and (she can sing Csharp!) :)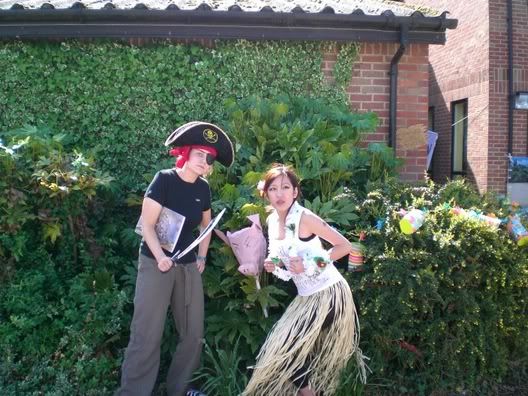 Oh god – so much to talk about, of course everything was mentioned in the LETTER TO PARENTS – the pics are coming up soon on the Locker.
ALSO – after the Leavers lunch –
(in which me and Katus took advantage of the free food),
a large group of us decided to
STORM
the Grammar school. All previous plans had to be
scrapped
as they had in fact locked almost ALL the gates. However,
we made it
–
after getting apprehended by Venning
– and there are a few
amusing videos
(to be put up) of a large line of pirates (and a hula girl!) running across the field during the lunchtime rush.
Then we legged it through our
staff room
– making a ruckus as usual – and managing to get ALL of us through in one piece!
(it helped that there were only about 5 members of staff inside)

And yes – water fights, crying, food –
it was a GOOD DAY.
Anyway =
LEAVERS BALL tomorrow.
I just want to say thanks to everyone who worked hard to make
Project Mayhem
"the best I've ever seen "
(quote several teachers!) – whether you helped to create the scene or even just dressed the part – I think it's a day that NONE of us will ever forget.
Thank you
to ALL those who have been involved in my endeavours to cause havoc and have fun. I almost died when
Ambray
said in the assembly
"And thanks to Zoe, who's got me into the MOST trouble this year!"
– I'd like to point out there is almost no truth behind that….
All my love, and hope to see you tomorrow night –
the final thing I've been planning!
xXXXx
PS Thanks to those that signed my yearbook – there are OFFICIALLY no more spaces
PPS - Sorry?