*Names have been changed (slightly) to protect identity
Feedback accepted graciously (no violence involved, i swear)
Disclaimer: All events and proceedings related to this site are fictitious. Any association to current affairs is ENTIRELY coincidental...Completely coincidental
(Ha, that'll keep those with libel in mind happy.
or dead
)
---
Tuesday, June 27, 2006
Zoe is being deported
But i couldn't leave without posting a pre-holiday blog. TRADITION mate! (honestly, not because i've found a new activity to avoid ... PACKING! Anti-Packing Group yerr - I wonder what CRAZY things she'll get up to..)
Right.
First off -
last night was WICKED.
It was so much fun getting you all to
dance like loons
with me. Also -
2 for 1 on cocktails
at Revs - ME AND E made use of that! (
plus the barmen are hot in Revs!)
It was fun stalking fit checkered shirt boys who looked like a straight, hotter version,
less Maltan
version of
Will Cass
- haha he's going to have an
ego trip
It was also fun dancing to complete mashups of ALL my fave songs and trying to pop with Austin.
(Didn't work but he is the dancing king - after Rafi lol)
However,
you know one thing that's not fun? People forcing themselves on you - and then after making a hasty excuse and retreat... bumping into them again later that night - realising that the dark, is ACTUALLY their friend.
That's not fun.
There were lots of beautiful moments like this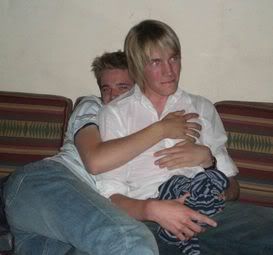 And some interesting ones...
(lol at Austin!)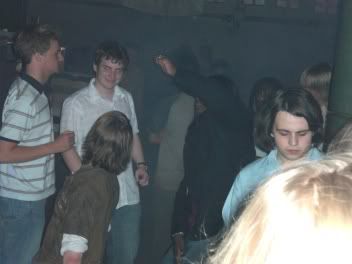 But yeahh - should give kudos to the drivers for getting everyone there -
Elly, Danny D, Miner Matt
and
Hutton
- who probably should have
extra kudos
cos he drove his car when
Beasley
had thrown up in it a few nights before....
but then again
...
Elly
had a drunk
Chizzel
to deal with and
Miner Matt
had
Frazer
amongst his passengers - we ALLL know that Frazer is a wild wild boy when drunk :/
(lol jks)
ANYWAY!
Am a biiiiiiiiiiiiiiit kankered seeing that I got back about 2ish and went to bed much later lol
But yeah I have last minute packing to do. I'll do it sometime.
After breakfast.
Haha this morning, my mum said
"Zoe, we need to try and clear the fridge so eat as much as you can"
DIRECT ORDER. I'm in!
Oooh
and my
AMAZON
package came this morning -
good timing!
But yeah, i found
The Postal Service
,
Fatboy Slim
,
JayZ VS LinkinPark
AND a bit of
Rage
-
ALL for £16Bargain mate.
And randomly - i'm looking forward to the in-flight movie for some reason...
I hear its BrokeBack Mountain...

H
ope you all have a wicked two weeks. I'll catch some of you soon no doubt but til then...
Enjoy the silence
xXXXx